---
<![if !vml]>
<![endif]><![if !mso]>

<![endif]>

<![if !vml]>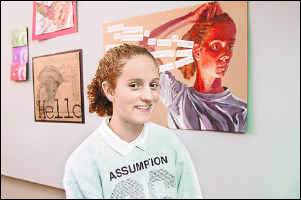 <![endif]>

Laura Armstrong, a senior at Assumption High School, had

art on display at school. She also runs on the cross country

team. (By Keith Williams, The Courier-Journal)

<![if !mso]>

<![endif]><![if !mso & !vml]> <![endif]><![if !vml]>

<![endif]>Monday, November 14, 2005
2 girls honored for academic, sports efforts
Seniors are finalists for Wendy's award
By Patti Smith
Special to The Courier-Journal
Two Louisville-area girls have been named finalists in
the Wendy's High School Heisman award program,
which recognizes outstanding ability in academics,
athletics and community service.
Laura Armstrong, a senior at Assumption High School,
and Stephanie West, a senior at Oldham County High School, received bronze medals.
Each high school statewide can nominate two students -- a boy and a girl -- for the Heisman award. Laura and Stephanie were among Kentucky's 20 finalists. Kentucky's winners, Christopher Fletcher, a senior at East Ridge High School in Lick Creek, and Kortni Dukes, a senior at Scott High School in Covington, won silver medals and $1,000 for their schools.
Assumption math teacher Elaine Salvo said Laura is one of only a handful of students in her more than 20 years of teaching calculus who grasped the complicated concepts easily.
"She would understand what I was saying in the middle of my sentence," said Salvo, who also is a college counselor at Assumption.
Laura, who runs track and cross country, was the 2004 state winner in the 800-meter run. She has a 3.98 grade-point average and is taking five Advanced Placement classes this year.
She recently won the American Mathematics Contest, which tests skills in calculus.
Laura has applied early to Brown University in Providence, R.I., where she hopes to major in math and also study art.
Several pieces of her artwork are on display in the new theater at Assumption.
She also plans to continue running in college.
Laura, who lives near Ballard High School, has done volunteer work at a center for unwed mothers for more than a year. She baby-sits there and helps with office work.
Stephanie, 17, has been a student at Oldham County since August after moving with her family from Texas.
Matt Steedly, guidance director at Oldham, said he had no problem nominating Stephanie, even though she had been at the school just a short time.
"I knew immediately what a serious student she was and saw the power of her academic accomplishments," he said.
Stephanie, who ran cross country and track, and played basketball and softball, held a 4.3 average at her Texas high school because of her advanced classes.
She is taking Advanced Placement biology and Advanced Placement microeconomics this year, and runs cross country. Stephanie, of Crestwood, wants to attend Bellarmine University or the University of Kentucky, where she will major in business marketing and play softball.
She has been active in community service, helping coach youth sports teams that her little brother played on and working on the student council with toy, food and blood drives.
Dave Thomas, founder of the Wendy's restaurant chain, created the Heisman program in 1994 to recognize students who excel academically, athletically and in service to their communities. State winners are automatically entered into a national competition, in which they can receive a $2,500 scholarship.